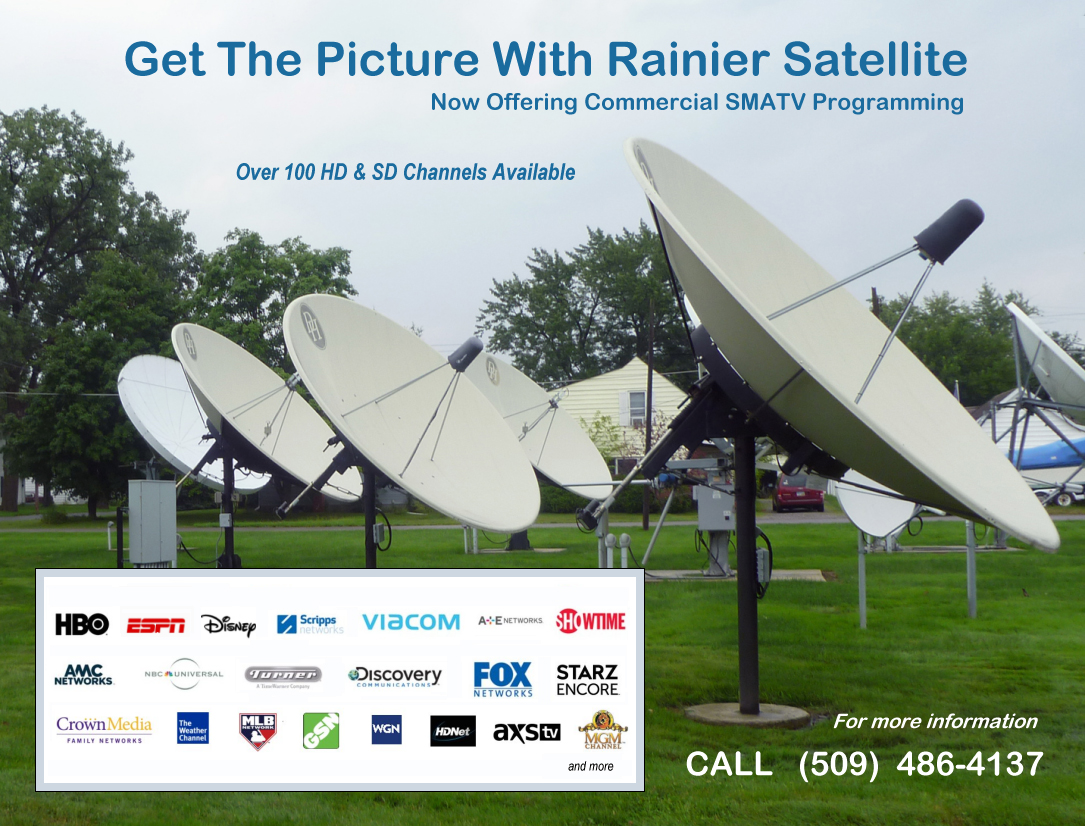 Rainier Satellite is please to announce our New SMATV platform has launched.  Here are the channels we offer.
Services Available now for your commercial establishment.

CHANNEL LINEUP
Fox Business / Fox News Package
Fox Sports Deportes
Fox Sports
Fox Sports2
Baby TV
ESPN / ESPN 2 Package
Disney Channel
Disney Jr.
Disney XD
Freeform
ESPNews
ESPN Classic
FXM
FXX
FX
National Geographic Channel
Nat Geo Mundo
Nat Geo WILD
A&E / History Package
Crime and Investigation Network
fyi, / VICELAND Package
History en Espanol
Viceland
Military History
Lifetime / Lifetime Movie Network Package
AMC
BBC America
BBC World
IFC
Sundance Channel
WE
BLOOMBERG
CBS SPORTS
C-SPAN
C-SPAN 2
C-Span 3
Hallmark Channel
Hallmark Drama
Hallmark Movies & Mysteries
American Heroes
Animal Planet
Destination America
Discovery Channel
Discovery Family Channel
Discovery Life Channel
Investigation Discovery
OWN
Science Channel
TLC:
Discovery en Espanol
Discovery Familia
MotorTrend
Cooking Channel
DIY
Food Network
GAC
HGTV
Travel Channel
EWTN
EWTN Espanol
FIGHT
FUSE
Game
GSN
ASPiRE
UP
AXS
HDNet Movies
AWE
One America News Network
HSN
HSN2
INSP
MGM
MAV TV
MLB Network
NBA TV
Bravo
CNBC
CNBC / CNBC World Package
E!
Golf Channel
MSNBC
NBC Sports Network
Olympic Channel
Oxygen
SyFy
Telemundo
Universal Kids
UNIVERSO
USA Network
NFL Network
NHL Network
One World Sports
ELEVEN
Outdoor
Outside TV
Pursuit TV
QVC
QVC Plus
REELZ
RFD TV
Ride TV
SHORTS
Showtime
Sho2
Showtime Beyond
Showtime Extreme
Showtime Family Zone
Showtime Next
Showtime Showcase
Showtime Women
The Movie Channel
TMC Extra
Smithsonian
Sportsman Channel
StarzEncore
StarzEncore Action
StarzEncore Black
StarzEncore Classic
StarzEncore Family
StarzEncore Suspense
StarzEncore Westerns
StarzENCORE Package
Starz
Starz Cinema
Starz Comedy
Starz Edge
Starz in Black
Starz Kids & Family
Cinemax
5StarMAX
ActionMAX
MoreMAX
OuterMAX
ThrillerMAX
WMAX HD
HBO
HBO Comedy
HBO Family HD
HBO Latino
HBO Signature
HBO Zone
HBO2 HD
WGN America
Church Channel
JUCE
Smile of Child
TBN Enlace
TBN
Boomerang
Cartoon Network
CNN
CNN
CNN International
Headline News
TBS
Turner Classic Movies
truTV
TNT
TVG Network
TVG2 (HRTV)
BET
CMT
Comedy Central
MTV
MTV 2
Nickelodeon
Paramount TV
TV Land
VH1
BET Jams
BET Soul
CMT Music
Logo
MTV2
MTV Classic
MTV Live
Nick Jr.
Nick Music
Nicktoons
Teen Nick
Weather Channel
World Fishing Network
CALL 509-486-4137 for more information.