NEW ENGLAND SPORTS NETWORK
Brought back after being gone from C band for 18 years. ONLY BY Rainier Satellite. Rainier Delivers Again!
All current Rainier subscribers your in for a treat. If you have the discontinued Legacy Lifeline Basic Package or the discontinued 2017 Basic Blue Package Rainier has authorized your receiver for NESN National HD on the 131w satellite for free till your subscription needs to be renewed. This is our gift to you for being a Loyal Rainier Satellite customer. Your subscription to NESN will continue after that once you renew to our new 2018 Basic Blue Package that replaces your current package.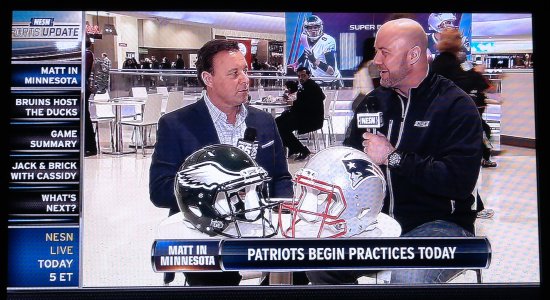 NESN LIVE
ABOUT:
NESN National is the national television service of NESN that provides fans outside New England the best opportunity to follow the Red Sox, Bruins and all New England sports. NESN National delivers NESN's Red Sox and Bruins pregame and postgame shows, NESN Sports Today, New England college sports and Liverpool FC delayed broadcasts. NESN National also includes Original NESN Entertainment (ONE) productions such as The Instigators, Dining Playbook, Charlie Moore Outdoors, Celebrity Spotlight and more.
To receive NESN National add the following data to a free preset and acquire.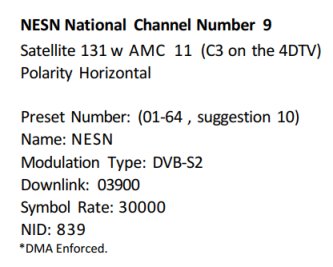 Wait on channel 9 a few minutes to take a hit. AND ENJOY NESN!
If your not a subscriber yet and wish to receive NESN in Ultimate HD and Rainier's other fine channels. Its now easier than ever to get Rainier. We have 0% Financing Available.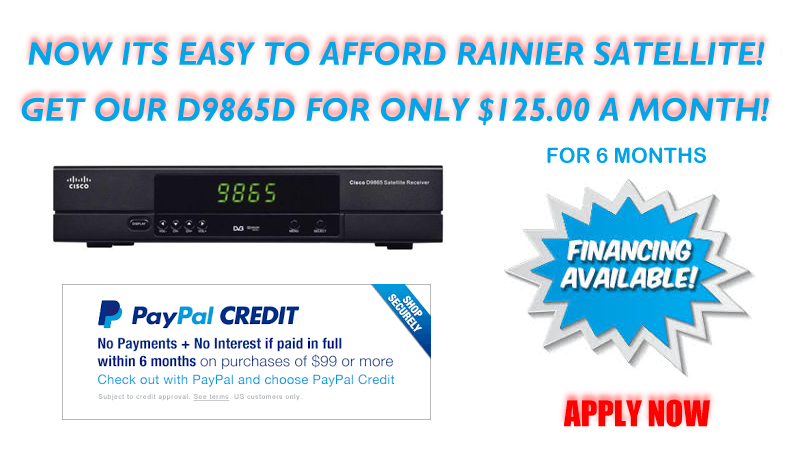 You can order Rainier Satellite today by clicking on the button below.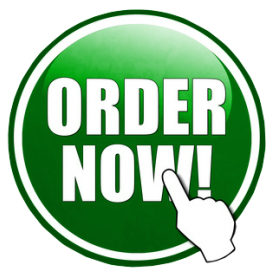 THANK YOU FOR CHOOSING RAINIER SATELLITE.
WERE THE FUTURE OF C BAND SATELLITE!