Rainier Satellite is pleased to announce a new product in our lineup for 2022. The Mighty Mini ED. This replaces all legacy SD and HD units. Whats special about our new model. It packs more power (amperage) in its mini design to move up to 12 foot mesh dishes effortlessly. Its the highest amperage consumer dish positioner on the market today.  Forget those weak V boxes. Our Mighty Mini runs rings around them.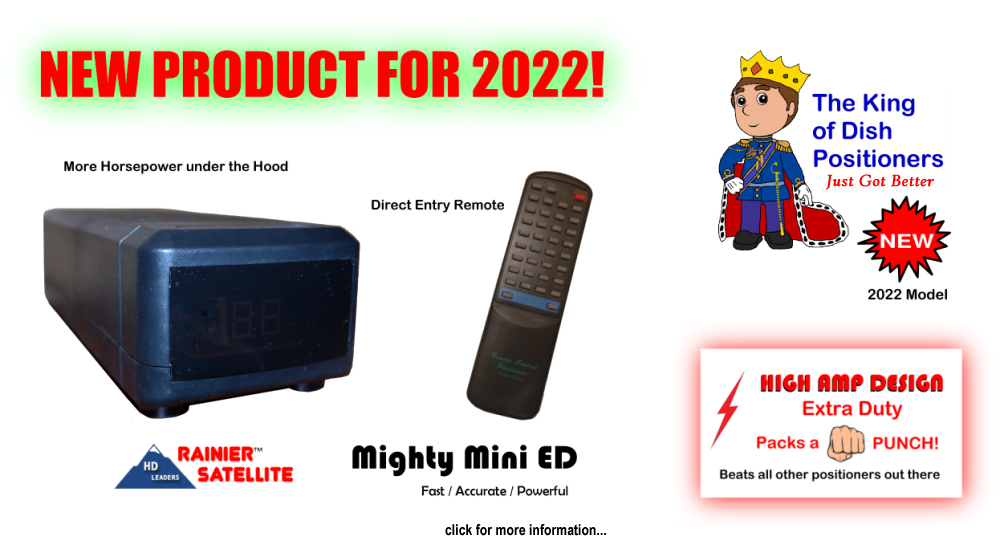 Check out it's Features:
New Powerful 3.6 Amp Maximum Current moves up to 12 foot mesh dishes.

New Extra Duty Model (MMBDT-EX)

Power Punch for fast startup.

Powerful 36 Volts DC delivered to M1 & M2 terminals.

10 Amp 110 VDC rated dual motor relays.

Compact Design. (sits next to our D9865 receivers)

Super Simple Installation Setup.

One Button Direct Satellite Tuning.

32 Direct Entry Satellite positions

.

Non-volatile memory.

Compatible with any Actuator including H to H using a reed, hall, or optical sensor.

5 volt rear terminal for optical sensor.

Electronic Overload Protection.

Anti-miscounting design.

Large "easy to read" Green LED Display.

LED bars show dish movement direction.

Full Size Remote and buttons, 37 Keys. Easy to use.

Countdown memory clear reset function.

Full Function IR remote control.

Dimensions 3.75″ L, 11.0″ D, 3.75″ H

.

AC Voltage in, 115v 60 Hz.
Works Flawlessly with Rainier and FTA systems.
Order Today!