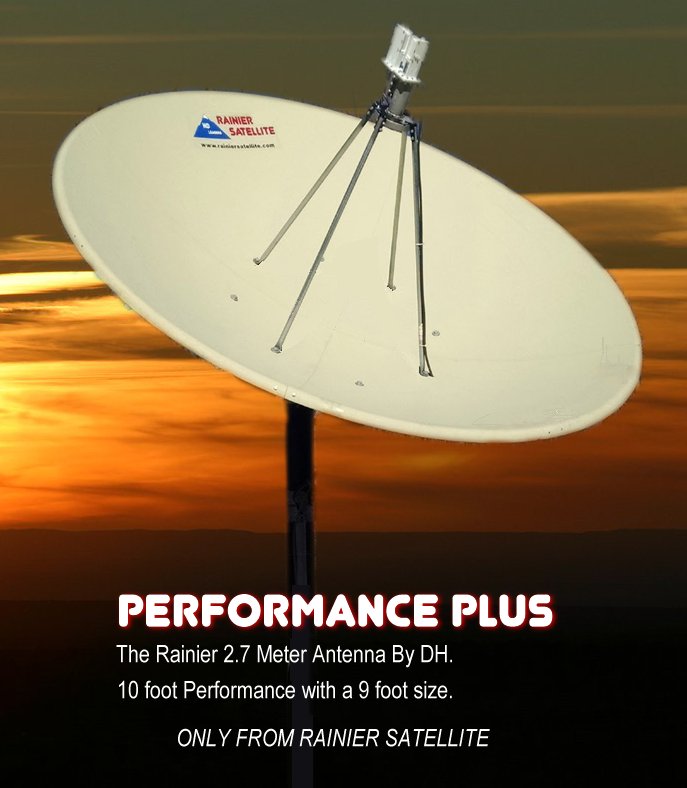 4 Different choices of mounts are available with our c band dishes. Our Satellite Dishes come standard with an AZ-EL mount. Optional mounts are available.
Stop 5G Interference Cold with Rainier Satellite.

Get Ready. Prevent 5G interference problems with our satellite dishes.

Our SOLID TRUE Parabolic reflectors help block offending terrestrial microwave (Wmax, 5G) signals unlike mesh dishes. Team our dishes with our complete line of 5G filtered LNB's (coming soon) Don't let 5G get you down. Fight it with quality products from Rainier Satellite.
Optional Mounts
Polar Mount

Track the full arc with our polar mount. Requires 24 or 36 inch actuator and Mighty Mini Positioner to scan the sky. Comes with stationary lock bar for one satellite operation.

Gilbralter Series Dual Powered Mount

Dual powered available for our 2.7 meter or larger. 5.5 OD pole required. Control both Azimuth and Elevation using 2 mighty Mini's from your easy chair. Never be off target. Track inclined orbit satellites Your always in charge with this option for our dishes.

Horizon to Horizon Mount

3.0 meter or larger dishes required. 160° of Travel Travel Time of 4 Min. 37 Sec. to Cover the 160° Arc Infinite Adjustments for Elevation for Precise Aiming Heavy Bronze Bushings for Extended Life Performance. 36 Volt DC Motor for Accuracy. Heavy Duty Gearbox w/Chain Drive Eight Back Braces for Stability Available in 16 tab design for both DH one-piece and sectional antennas.
Need a larger Satellite Dish?

We carry them. 10ft (3 Meter), 12ft
(3.7 -3.8 Meter) and larger. Sizes up to
5 meter dishes also available. We can
supply the gain you need. Motor freight
shipping only.
Contact us for a quote call
509-486-4137
serious inquiries only.
We Got Your Reception Needs Covered. In Stock! Made in the USA!
Learn more about our Dishes (click button below)


or CALL US TODAY AT 509-486-4137.