Did you know… Your Dish Mover probably is on its last legs…..
Time to upgrade and save at the same time…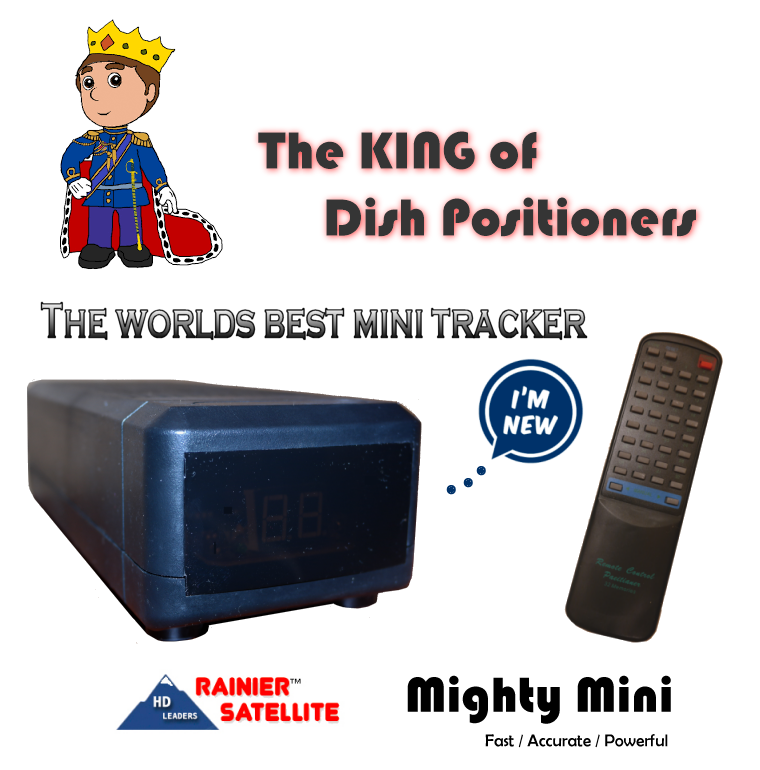 Works with ALL BIG DISH SATELLITE SYSTEMS AND RECEIVERS… RAINIER SUBSCRIPTION & FTA!
Sale Ends September 12th. Summer's officially over. The cold winter winds will be blowing soon. You don't want to miss out enjoying TV because your dish suddenly developed hardware failure and stopped moving. If you use a 4DTV, old analog receiver, Titanium ASC1, or V-Box, C band positioner they're old and prone to failure. Time to get a fresh start. Upgrade to a brand new Rainier Satellite Mighty Mini Dish Positioner today and save $40.00 off the regular price.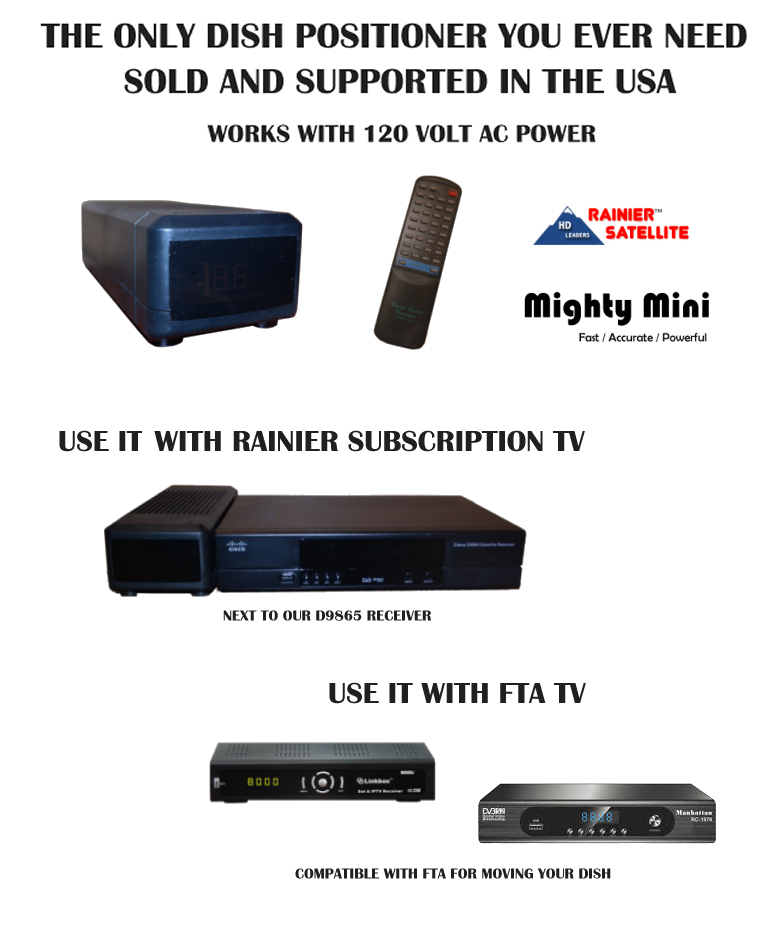 Strong – Simple – Easy Setup Dish Mover.
» Works Great with the Rainier D9865 Satellite System.
» Replaces the 4DTV dish mover in any system.
» Can be used for FTA to independently move your dish.
» Accurate, Dependable, Bug Free Operation for Large Dishes.
Get your big dish connected to the world's best mini tracker available on the market today. The Rainier Satellite Mighty Mini supplies a powerful 36 volt high amperage current to your actuator for high torque accurate flawless movement. Features a two digit numeric LED positional display so you know exactly where your dish is pointing. Four LED bar display operate in sequence to give quick indication to direction dish is traveling. Storing satellites is simple, press one button that's it. Finding your favorite satellite locations is quick and easy with our direct remote keypad one button operation. Safety stop feature stops dish movement instantly by touching any key on the remote. The Mighty Mini can store up to 32 direct entry satellite positions in its non-volatile memory. Power outages can't wipe it out. Includes a fine quality full size IR remote. 115 volt AC operation.
A Satisfied Customer Review…
Very satisfied with my Mighty Mini purchase. Got it when Rainier brought them out, it's been working great. It's getting hard these days to find quality built satellite products with all the junk coming in from foreign sources. Rest assured when you buy from Rainier you're getting some of the best fully tested products out there.
As far as support goes Rainier is top shelf. They have a very knowledgeable staff that always answers any questions I have. The nice thing about Rainier is you can speak with a person on the phone that's in the U.S. not like with other companies. Their number is 509-486-4137.
If you haven't dealt with Rainier yet give them a try. You'll be pleasantly surprised.