Introducing the Mighty Mini HD 2020 version.
A Rainier Satellite Exclusive.
Now with Enhanced Overload Protection.
High Amperage Design.
Your Big Dish deserves the best.
Get your big dish connected to the world's best mini tracker available on the market today. The Rainier Satellite Mighty Mini Heavy Duty model supplies a powerful 36 volt high amperage current to your actuator for high torque accurate flawless movement. The HD Plus model includes Rainer's Proprietary PPPT nine element Power Punch Plus circuit with thermal overload shutdown and surge / spike protected M1 & M2 inputs. It's designed for cold climates and installs where an extra startup punch is needed. Our New 2020 design revision now protects your Mighty Mini HD better under overloaded conditions. Features a two digit numeric LED positional display so you know exactly where your dish is pointing. Four LED bar display operate in sequence to give quick indication to direction dish is traveling. Storing satellites is simple, press one button that's it. Finding your favorite satellite locations is quick and easy with our direct remote keypad one button operation. Safety stop feature stops dish movement instantly by touching any key on the remote. The Mighty Mini can store up to 32 direct entry satellite positions in its non-volatile memory. Power outages can't wipe it out. Includes a fine quality full size IR remote. 115 volt AC operation. This unit does not control polarity for use with servo feeds. For polarity control order our Core Electronics package below where all parts needed for this is also included.
Highest Quality:
The Mighty Mini offers the highest quality and value with features no other satellite dish Tracker Controller can match.
Clean Power Technology :
Our Mighty Mini Heavy Duty version includes Clean Power Technology. No other Tracker offers this. This Rainier Exclusive technology supplies your actuator with pure filtered power. It prevents noise that can cause corrupt pulse counts that bring on unnecessary tracking errors. It also allows the dish to move smoothly and faster than units not offering it. This prevents under and over shoot of the target satellite.
Large LED Display:
The Mighty Mini makes it is Easy to see what Satellite your on even across the room with its large green LED display.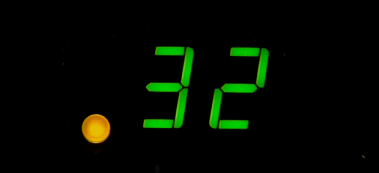 Dish movement and direction indicator:
The Mighty Mini makes it is Easy to see your dish is in motion and the direction it's headed. Utilizing four sequential bars gives you instant status reports of dish in motion condition and direction.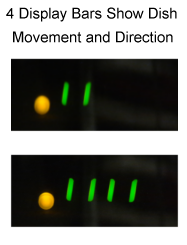 Features:
Heavy Duty Model (MMBDT-H) Recommended for up to 12 ft mesh dish, and for Cold climates or adverse conditions.

Compact Design. (sits next to our D9865 receivers)

Super Simple Installation Setup.

One Button Direct Satellite Tuning.

32 Direct Entry Satellite positions

.

Non-volatile memory.

Powerful 36 Volt DC for M1 M2.

Clean Power Technology.

New 2020 Version features Enhanced Overload Protection.

4 Amp PPPT Boost High amperage design

.

PPPT 2x inrush current protected

.

PPPT Military spec components.

M1 & M2 Surge / Spike protection.

Nine element Power Punch Plus circuit with thermal overload shutdown

.

Designed for cold climates and installs where an extra startup punch is needed.

Compatible with any Actuator including H to H using a reed, hall, or optical sensor.

5 volt rear terminal for optical sensor.

Power Punch for fast startup.

10 Amp 110 VDC rated dual motor relays.

Electronic Overload Protection.

Anti-miscounting design.

Large "easy to read" Green LED Display.

LED bars show dish movement direction.

Full Size Remote and buttons, 37 Keys. Easy to use.

Countdown memory clear reset function.

Full Function IR remote control.

Dimensions 3.75″ L, 11.0″ D, 3.75″ H

.

AC Voltage in, 115v 60 Hz.
IN STOCK ORDER TODAY!