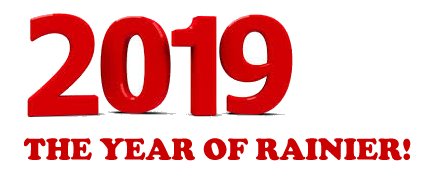 The New Year is here and Rainier welcomes it in with more than ever before! Not only does Rainier continue to add new premium content channels to our growing lineup in our new Variety pak, but we're now offering a new everyday low price on our highly acclaimed D9865H receiver. But wait there's even more. 2019 will see the introduction of our new mighty mini dish mover tracker controller.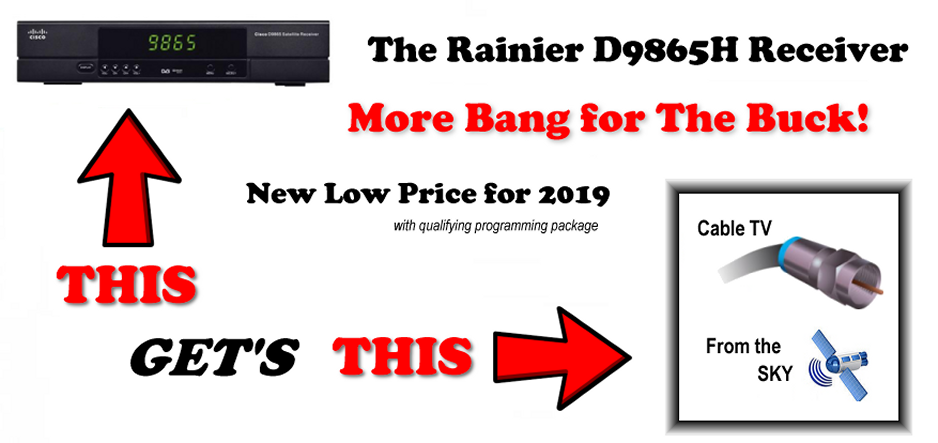 The Cisco/Rainier Encore D9865H satellite receiver is our Commercial-Quality HD Satellite Receiver. Redesigned and updated by Cisco for todays and future needs. It's all you will ever need to enjoy the Rainier Full View Arc Subscription Commercial-Quality Broadcast Master channels and, Free-to-Air DVB & DVB S2 channels on C and Ku band satellite. The ULTIMATE HD picture quality is razor sharp and breathtaking. (1080i, 720p, 480p & 480i supported) Its commercial quality insures Free-To-Air channels will come in without lag, shudder, lip-sync or other anomalies that plague low cost FTA consumer-only receivers. Subscription TV channels continue to be released by Rainier and this is the receiver needed to enjoy them all. Grab it today and experience HD Satellite TV as it was meant to be.
4 Receivers in One:
Receives Rainier Subscription Commercial Broadcast Master Channels.
Receives All Freeview FTA Channels on C and Ku band.
Will Receive Rainier CA-Plus Subscription Channels to be added in the future.
Capable of adding additional hardware coming in the future.
HD / SD, DVB S, DVB S2, Mpeg 2, and 4, QPSK, 8PSK compatible.
PowerVu Conditional Access Decoder built in. Optional cam slot included.*
* Conditional Acesss Cam Slot included for use of CA-Plus Advanced Signal Security (coming soon).



Both units use up less space then the 4DTV did.
The Mighty Mini Dish Tracker Features:
Standard (MMBDT-S) and Heavy Duty (MMBDT-H) Models.

Compact Design. (sits next to our D9865 receivers)

Simple Installation Setup.

One Button Direct Satellite Tuning.

Non-volatile memory.

Powerful 36 Volt DC high amperage design

Power Punch Start Circuit (MMBDT-H)

10 Amp 110 VDC rated dual motor relays.

Electronic Overload Protection.

Anti-miscounting design.

Large "easy to read" Green LED Display.

Full Size Remote and buttons.

Full Function IR remote control.

And Much More!

More details coming soon…

Just take a look at the uncut unedited commercial free movies Rainier now offers you with Sony Movie Channel and Cine Sony

CLICK HERE to see More Movie Choices From Sony
Sony Movie Channel and Cine Sony are not available FTA.