Christmas comes early with Rainier as we've launched our new Variety Pak early to the public. Originally scheduled for a January 1st launch, Variety is where the stars come out with Premium movie channels included at no extra cost.   Get the best Uncut commercial free movies from Sony Movie Channel and Cine Sony. NOW! Premium Movies are back on the big dish gone since 2014 with the defunct 4DTV H2H service. More popular cable channels also are launching in Variety in 2019, for more details call 509-486-4137.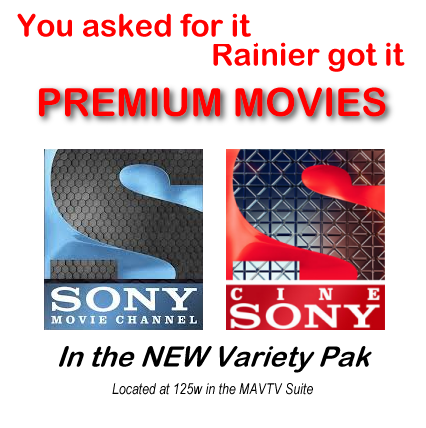 But that's not all! If you not a Rainier Satellite subscriber yet you can take advantage of our new low low price on our D9865H receiver when purchased with Variety SEE DETAILS HERE.
If your already a Rainier Subscriber and wish to upgrade to Variety call us at 509-477-9270.
DETAILS: Current basic blue subscribers with Rainier can upgrade from your current blue pak to Variety easy. The upgrade costs you will charged will be prorated, being charged for the difference on the remaining time left on your basic blue subscription.
Past subscribers to Rainier suspended for non renewal payment can purchase Variety for its retail cost plus a re-authorization fee of $25.00.
Big Dish Owners. Get on Board with the Magic of Rainier Today!