Rainier Satellite is pleased to announce we have acquired the contract rights and will be launching the Gone Viral TV Networks in February.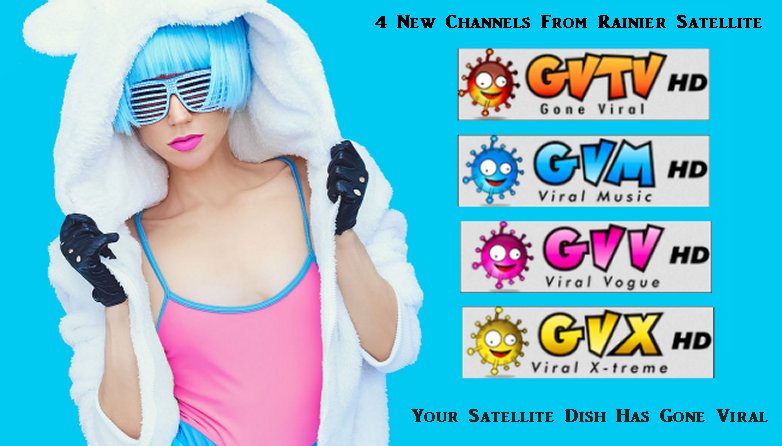 THE BEST OF THE INTERNET IS NOW ON TV!
In 2011, Gone Viral TV launched the first network of four 24/7 linear HD channels. They package the most popular Internet videos from around the world to be easily enjoyed on your television screens. Network programming consists of back-to-back, made-for-web, short-form videos of varying genres, all in HD and commercial-free. Gone Viral TV offers 4 different channels available in Ultimate HD only from Rainier.
Gone Viral was FTA to backyard dish owners for a while but encrypted recently with Cisco's PowerVu on the 101 west satellite as more cable companies picked them up. Rainier saw this as an opportunity to bring them back for the backyard dish viewer utilizing the D9865's PowerVu decoder in our receiver. Well we got the contract and they're Back! These channels will be launching February 1st in our Basic Blue 2018 plus pack and New HD Startup Package.
Rainier Satellite Continues to Deliver more and more content for C band TVRO big dish owners in 2018.
If your a current Rainier Satellite Subscriber and have our Legacy Lifeline Basic Package, or the Legacy 2017 Basic Blue Package you can add them by early renewing your subscription now with Basic Blue 2018 plus pack. We will add the Gone Viral Networks for free to the remaining time left on your current package and they will continue with your renewal.
See our growing packages channel lists HERE
DON'T HAVE RAINIER SATELLITE YET?
WERE THE FUTURE OF C BAND!