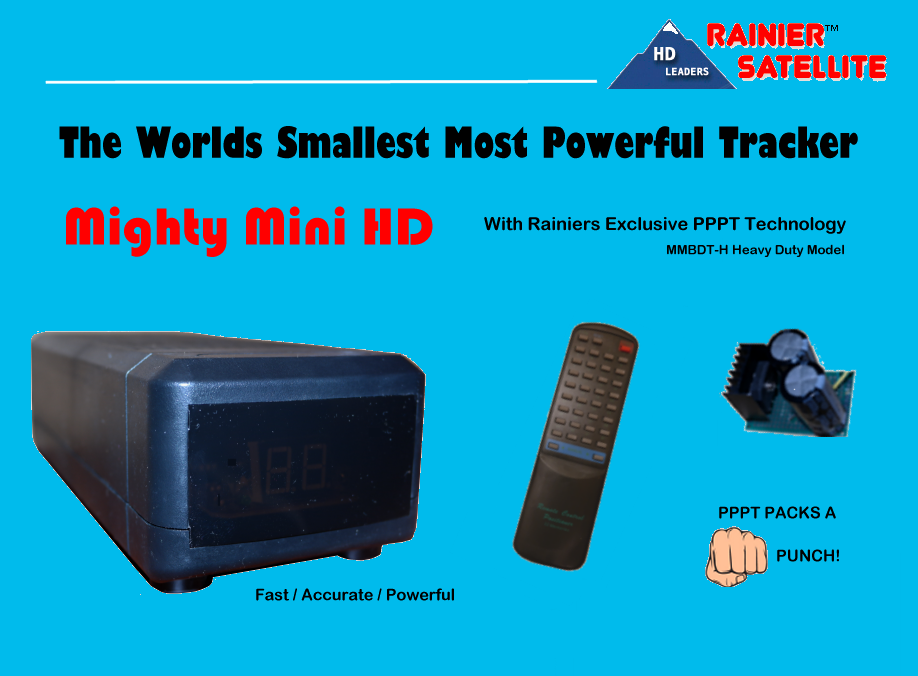 Attention big dish owners! A limited number of Mighty Mini Heavy Duty Dish Positioner's will be in stock this week. They will be sold on a first come first serve basis. These are model MMBDT-H. These offer Rainier's Exclusive PPPT circuitry. Keep your eyes here at our news page for beginning sale's date.
Highest Quality:
Rainier Satellite's Mighty Mini offers the highest quality and value with features no other satellite dish Tracker Controller can match.
Description:
Get your big dish connected to the world's best mini tracker available on the market today. The Rainier Satellite Mighty Mini Heavy Duty model supplies a powerful 36 volt high amperage current to your actuator for high torque accurate flawless movement. The HD Plus model includes Rainer's Proprietary PPPT nine element Power Punch Plus circuit with thermal overload shutdown and surge / spike protected M1 & M2 inputs. It's designed for cold climates and installs where an extra startup punch is needed. Features a two digit numeric LED positional display so you know exactly where your dish is pointing. Four LED bar display operate in sequence to give quick indication to direction dish is traveling. Storing satellites is simple, press one button that's it. Finding your favorite satellite locations is quick and easy with our direct remote keypad one button operation. Safety stop feature stops dish movement instantly by touching any key on the remote. The Mighty Mini can store up to 32 direct entry satellite positions in its non-volatile memory. Power outages can't wipe it out. Includes a fine quality full size IR remote. 115 volt AC operation.
For more information and to order CLICK HERE